Dip. Pool Tech. (NZPIA)

The Diploma Course 2021 provides Basic Information essential to anyone belonging to,
or interested in becoming a part of, the New Zealand Swimming Pool Industry
- as an owner, employee, service provider, pool shop Owner, pool builder
or installer or pool salesperson.

The Course is open to all interested parties in the General Public and FINANCIAL MEMBERS or STAFF or CONTRACTOR TO
current Financial Members of the NZ Swimming Pool Industry Association Incorporated at a discounted fee.

The Diploma Course 2021 is continualy updated with Major Reviews every Ten Years. The Course comprises Twelve Papers
covering a basic Introduction to the Swimming Pool Industry, a Glossary of pool terms, essential Pool Equipment,
pool Filtration Equipment, using Pool Chemicals and Testing Equipment, chemical balancing of Swimming Pool water, Problem Solving,
Techical Information, pool Design, Spa Pools and Hot Tubs, and Pool Safety Issues.
The Diploma 2021 course may be undertaken confidently by students, and any any mid-course updates will be sent out
as they are published and credits updated as required.
Downloading the Course Papers is free, and once Enrolled the Marking and Assessments of your progress is included in the Registration Fee.
There is no time limit for completion, but submitting each Paper as you complete it then downloading, completing and returning the Test Paper
could provide a Total Assessment within two months. A Progress Assessment for each Paper is Assessed will be available on request.
The Diploma is both a PATHWAY to the NZPIA Inc CERTIFIED BUILDERS LICENSE for Builder Members, and a Diploma
issued by the only swimming pool industry Trade Association would be useful in future employment .
BUILDER MEMBERS with minimum FIVE PLUS YEARS EXPERIENCE qualify for the
THE ASSOCIATION POOL BUILDERS GOLD CARD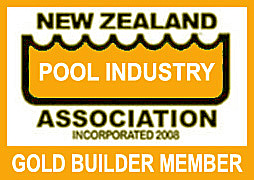 Graduates may append the title Dip. Pool Tech. (NZPIA) to their names on business cards etc. and will be awarded a Diploma (See sample illustration above)


THIS COURSE IS NOT YET NZQA APPROVED DUE TO FINANCIAL ISSUES BUT WE ARE WORKING ON IT.

HOWEVER...

DIPLOMA 2020 IS A NEW ZEALAND POOL INDUSTRY ASSOCIATION TRADE CERTIFICATE DEVELOPED,
MONITORED AND UPDATED EVERY TEN YEARS BY EXPERIENCED POOL TRADE MEMBERS
- BASED ON PRACTICAL EXPERIENCES IN THE FIELD BY POOL PROFESSIONALS OVER MORE THAN 50 YEARS
AND CARRIES SOME AUTHORITY