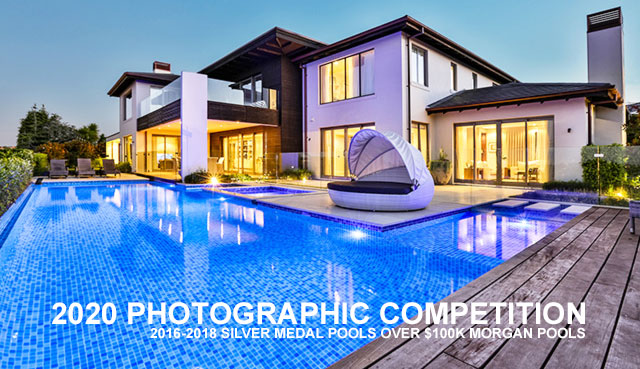 The Competition will be open for entries soon!
Judging in May 2019 - for a 2019-2020 photo spread
FREE ADVERTISING!
PRESTIGE!
FAME!

WINNING POOLS WILL BE FEATURED in a full colour MAGAZINE spreads & other Media
SPECIALTY MAGAZINE'S SPRING & SUMMER ISSUES 2019 and 2020!
SPLASH MAGAZINE WILL FEATURE OUR COMPETITION !
SPLASH MAGAZINE NSW Australia POOL + SPA MAGAZINE NSW Australia TRENDS Magazine New Zealand's best selling home improvement magazine! Swimming Pool & Spa Alliance New South Wales, Australia S.P.A.S.A. Qld Australia
THE CLASS WINNER IS THE ENTRY WITH THE HIGHEST SCORE in the opinion of the JUDGESPOINTS
AWARDS:
| | |
| --- | --- |
| | GOLD MEDAL for Top points in Class |
| | SILVER for entries within 10% of Top in Class |
| | BRONZE for entries within 15% of Top in Class |
Photo Competition Organiser:
CEO & Executive Committee Member Laurence E (Larry) Ogden
* Decide which/how many catagories you want to enter.
* Fee payment MUST accompany entries.
* Provide a brief description of pool and build date and approximate cost to build today
* And anything else you want to see on the web page or a Magazine article if you win.

Include your details, email address etc. and link to company web page where applicable.

An APPLICATION FORM will be available on the PIA Member's Web soon.

If insufficient entries in classes are received the PIA Inc reserves the right to delete the class or modify/abandon the competition completely without further notice.
RULES FOR 2020 PHOTO COMPETITION (i.e. VISUAL INTEREST, not DESIGN or ENGINEERING EXCELLENCE)

1. Due to construction diversity, there is no distinction between pool types: i.e. fibreglass, concrete etc.
2. Value of installed POOL ONLY Inc GST
(Not including Council Fees, Excavation, Fencing or Landscaping )
3. Pools built within the past FIVE YEARS of this competiton announcement with proof of date required
4. Pools built or installed by CURRENT BUILDER or ASSOCIATE BUILDER/INSTALLER MEMBER
5. Publishing of entries will be restricted to FINANCIAL MEMBERS in the JUDGING YEAR PLUS ONE YEAR
6. PREVIOUS Class Winner disqualified from re-entering same pool in SAME CLASS.

7. Maximum SIX entries per Member, FOUR pics each per entrant PER CATEGORY (Max. Poss. 24 entries)
(You may send in more of each pool for us to choose from for suitability of reproduction in colour magazines)
8. FEES: Each CLASS Entry will be $150 (No GST)
9. Entries by email to be 1280 x 760 pixels minimum and of professional composition & quality
(No cut off corners, untidy surrounds, bad focus or poor resolution and faded colours please)
10. Winning pictures will be required at higher Res 1820 x 1080 px for magazine reproduction
11. Entries must be identified by Membership Number, Category $ price, construction or handover date
(i.e. 180 (Membership #) Res 1 (For Residential Category June 2015 (date built should look like this: 180,RES1,entry1, )
12. Accompanying descriptive and design notes may be sent with entry and may be used in Magazine articles.
13. Entries accepted up to 12:00 noon Friday 10th May 2019. LATE ENTRIES WILL NOT BE ACCEPTED. NO EXCEPTIONS
14. DECISION BY JUDGES is FINAL and correspondence or discussion regarding Rules will not be entered into unless put in writing to the Executive for consideration. The decision of the Executive will be final.

| | |
| --- | --- |
| ENTRY CLASS | DESCRIPTION |
| RESIDENTIAL 1 | Residential swimming pool up to $60,000.00 |
| RESIDENTIAL 2 | Residential swimming pool over $60,000.00 to $120,000 |
| RESIDENTIAL 3 | Residential swimming pool over $120,000.00 no upper limit |
| ENVIROMENTAL | Environmentally sensitive Setting for any swimming pool |
| REFURBISHMENT | Renovation/Refurbishment of any pool type & value |
| COMMERCIAL | Commercial Pool of any type & value |
Interested?
Register your interest now by filling out the form below
so we can gauge interest from Builder Members

E&OE